SSC Released the Notification for the SSC CHSL 2021 Examination. SSC CHSL Apply Online for LDC, PA, SA and DEO Posts. Check SSC CHSL Last Date, SSC CHSL 2022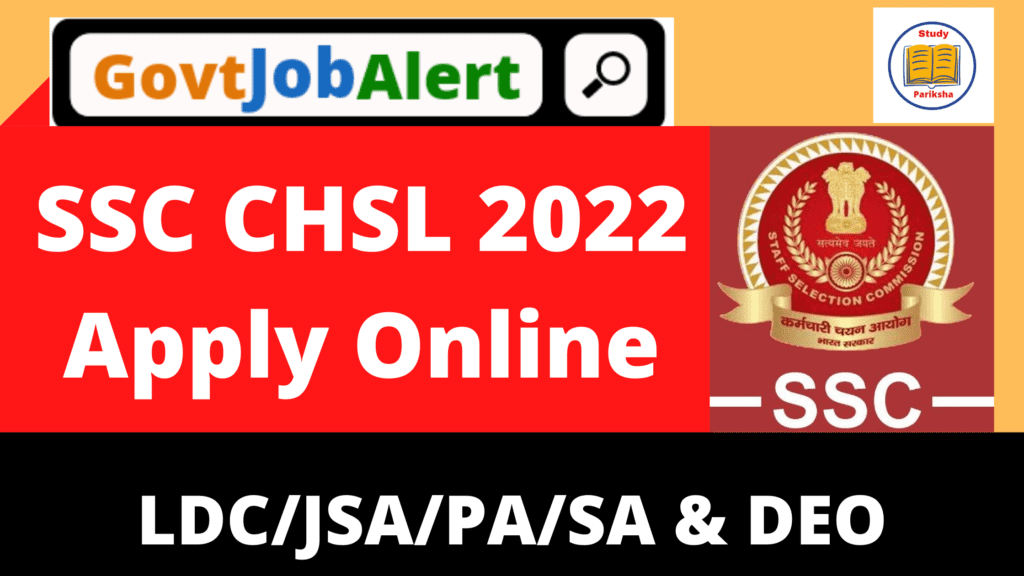 SSC CHSL Apply Online | SSC CHSL 2022 Notification
Staff Selection Commission ( SSC ) Has released the official notification for the Recruitment of Combined Higher secondary Level Exam for Lower division Clerk (LDC), Junior Secretariat Assistant (JSA), Postal Assistant (PA), Sorting Assistant and Data Entry Operator. you can check the Official Notification.
Those Candidates who are Eligible and Meets all the Requirements can read the Proper Notification and Apply for the SSC CHSL Examination Online.
Staff Selection Commission (SSC)

Application Fees

1. For Others – Rs 100/-

2. For Women, SC, ST, PWD, Ex-servicemen Candidates – NIL

3. Payment Mode – Through Online / Offline

Important Dates for CHSL Exam

1. Start Date to Apply Online – 01-02-2022

2. Last Date to Apply Online – 07-03-2022 23:00 Hrs

3. Last Date for Payment of Fee Through Online – 08-03-2022 by 23:00 Hrs

4. Last Date for Generation of Offline Challan – 09-03-2022 by 23:00 Hrs

5. Last Date for Payment of Fee Through Challan – 10-03-2022

6. Last date for Correction of Application Form – 11-03-2022 to 15-03-2022 by 23:00 Hrs

7. Date of CBT Exam (Tier-1) – May 2022

8. Date for Tier-II Examination – To be Notified Later

Age Limit ( as on 01-01-2022 )

1. Minimum Age – 18 years

2. Maximum Age – 27 years

SSC CHSL Form Educational Qualification
For LDC / JSA / PA / SA and DEO ( Except DEOs in CAG )
Candidates Must Have Passed 12th Standard or Equivalent Examination from a Recognized Board or University.
For Data Entry Operator (DEO Grade 'A' ) in the Office of Comptroller amd auditor General of India (C & AG)
12th Standard Passed in Science Stream with Mathematics as a Subject From a Recognized Board or Equivalent.
SSC CHSL 2021 Exam Pattern | SSC CHSL Registration
SSC CHSL Salary | SSC CHSL Last Date
Lower Division Clerk (LDC) / Junior Secretariat Assistant (JSA) – Pay Level-2 (Rs 19,900-63,200)
Postal Assistant (PA) / Sorting Assistant (SA) – Pay Level-4 ( Rs 25,500-81,100)
Data Entry Operator (DEO) – Pay Level-4 ( Rs 25,500-81,100) and Level-5 (Rs 29,200-92,300)
Data Entry Operator, Grade 'A' – Pay Scale Level-4 (Rs 25,500-81,100)
SSC CHSL Exam 2022 Syllabus
English Language – spotting the error, fill in the blanks, synonyms, antonyms, spelling detecting misspelt words, idioms and phrases, one word substitution, improvement of sentences, active passive voice, direct and indirect speech, sentences parts, cloze test, comprehension and Para Jumbled Sentences.
General Intelligence Reasoning – it would include questions of both verbal and nonverbal reasoning the test will include questions on semantic analogy, symbolic operations, symbolic number analogy, trends figural analogy, space orientation, semantic classification, Venn diagrams, number classification drawing inferences, figural classification, Punched Hole/ paper folding cutting, series, pattern holding and completion, number series, embedded figures, figural series, critical thinking, problem solving, emotional intelligence, word building, social intelligence, coding and decoding, numerical operations etc.
Quantitative Aptitude
(1) Number System – computation of whole number, decimal and fractions, relationship between numbers.
(2) Fundamental Arithmetical Operations – percentage, ratio and proportion, square roots, averages, interest simple and compound interest, profit and loss, discount, partnership business, mixture and allegation, time and distance, time and work.
(3) Algebra – Basic algebraic identities of school algebra and elementary surds simple problems and graphs of linear equations.
(4) Geometry – familiar with elementary geometric figures and facts triangle and its various kinds of centres, congruence and similarity of triangles, circle and its chords, tangents angle subtended by chords of a circle, common tangents to two or more circles.
(5) Mensuration – triangle, quadrilaterals, regular polygon, circle, right prism, right circular cone, right circular cylinder, a hemisphere, rectangular parallelepiped, regular right pyramid with triangular or square base.
(6) Trigonometry – trigonometry, trigonometric ratios, complementary angles, height and distances.
(7) Statistical Charts – use of tables and graphs, histogram, frequency polygon, bar diagram, pie chart
General Awareness
Questions are designed to test the candidate general awareness of the environment around him and its application to society. questions are also designed to test knowledge of current events and of such matters of everyday observation and experience in their scientific aspects as may be expected of uneducated person. test will also include questions related to India and its neighbouring countries. specially perforating to history culture geography economics in general policy and scientific research.